Most people would agree that proposals and weddings are some of the most magical things of all time. And the magic is only heightened when these life-changing events happen at the most magical place in the world — Disney Parks!
Let's face it, everyone feels like they've found their happily ever after when they meet the one, so why not take it to the next level and feel like an actual Disney Prince or Princess. These celebrity couples fully embraced the Disney fairytale by starting their stories at both Disneyland in California and Walt Disney World in Florida.
9

Married: Jordan Fisher & Ellie Woods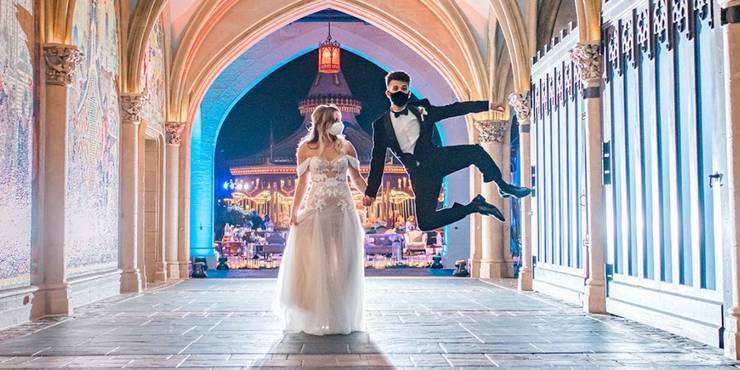 Jordan Fisher has strong ties to Disney having appeared in the Disney Channel original series Liv & Maddie while also appearing in the iconic Disney Channel Original Movie Teen Beach Movie. With that in mind, it only made sense for him to say "I Do" in front of Cinderella's Castle at Magic Kingdom in Florida.
Fisher married his childhood sweetheart Ellie Woods in a wedding fit for royalty in late 2020, after having postponed the ceremony due to COVID-19.  In true Cinderella fashion, the two got married just as the clock struck midnight.
8

Engaged: John Stamos & Caitlin McHugh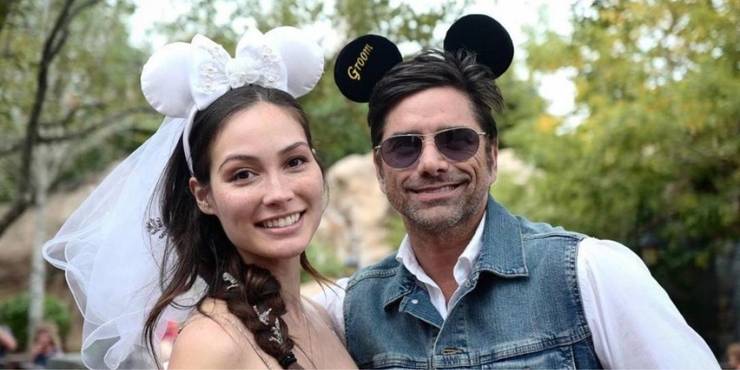 John Stamos has made no attempt to hide his love for the Walt Disney Company during his successful career. When it came time to ask his girlfriend and The Vampire Diaries star, Caitlin McHugh, to marry him he knew he had to do it at the Happiest Place on Earth.
Stamos popped the question with a little help from a video montage featuring classic animated characters in their most romantic scenes. Sources say he ended the proposal with Sebastian saying "Just ask the girl," before getting down on one knee. The two started their happily ever after at Disneyland have since celebrated their one-year anniversary at the parks.
7

Married: Holly Madison & Pasquale Rotella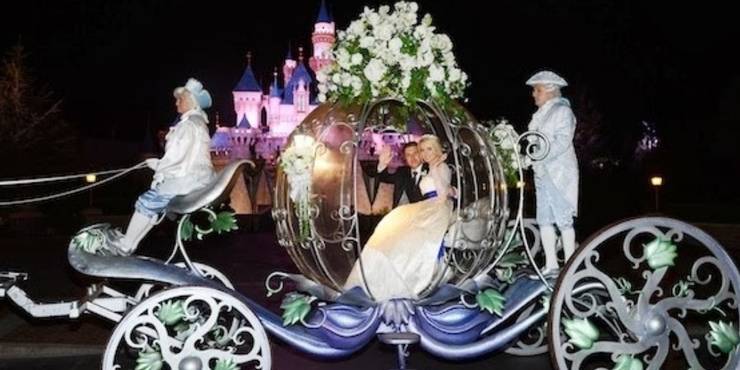 Holly Madison became a household name after appearing on the E! reality series The Girls Next Door which focused on the lives of Hugh Hefner's, found of Playboy magazine, girlfriends at the time. While Madison didn't marry Hefner she did find her fairytale ending with businessman Pasquale Rotella.
Madison pulled out the stops when it came to her wedding day. Guest arrived at the Blue Bayou restaurant in New Orleans Square before being escorted to Main Street where Madison made her grand entrance in Cinderella's glass carriage. The party really quicked off when guests were able to explore the park before watching a private showing of "Fantasmic!"
6

Engaged: Rob Dyrdek & Bryiana Noelle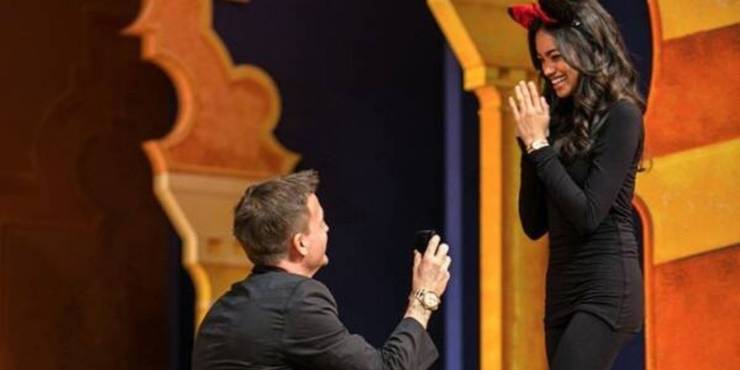 Rob Dyrdek is best known for being a pro-skateboarder who hosts MTV's Ridiculousness but in 2015 he also became known as the guy who pulled off one of the most romantic Disney proposals of all time.
While on a trip to Disneyland with his girlfriend and former Playmate of the Month Bryiana Noelle Flores, the two attended a showing of Disney's Aladdin – A Musical Spectacular at Disney's California Adventure. Dyrdek disappeared for a moment before reappearing riding on an elephant that carried him to the stage. He then asked Flores to join him on stage where he got down on one knee.
5

Engaged: Corbin Bleu & Sasha Clements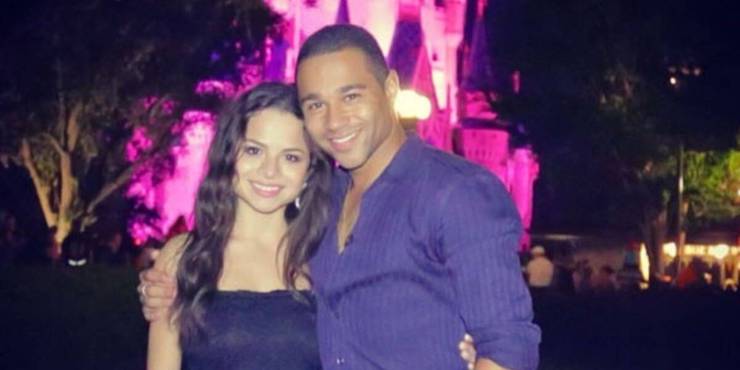 Corbin Bleu is of course best known for his role as Chad Danforth in the iconic DCOM franchise High School Musical. However, he's not the only Disney alumni in this pairing, his wife, Sasha Clements, also has ties to the Mouse House starring in several Disney Channel movies over the years.
When it came time for this former Wildcat to ask his Clements to marry him he knew it had to be done at the most magical place, Walt Disney World. Like all princes, Bleu got down on one knee in front of Cinderella's Castle.
4

Married: Mariah Carey & Nick Cannon
Even though Mariah Carey and Nick Cannon's marriage didn't work out in the end, they still got to live in a fairytale world when they renewed their vows, while also celebrating their twin's second birthday, in 2013.
The wedding/birthday bash happened at Disneyland. The family first celebrated their twin's birthday with a party at Fantasy Fairie before moving to Sleeping Beauty's Castle for the vow ceremony. Carey and her daughter wore matching Cinderella-inspired gowns while Cannon and his son dressed like Prince Charming. The family ended the night riding attractions and dancing as Cannon DJ-ed.
3

Engaged: Dot-Marie Jones & Bridgett Casteen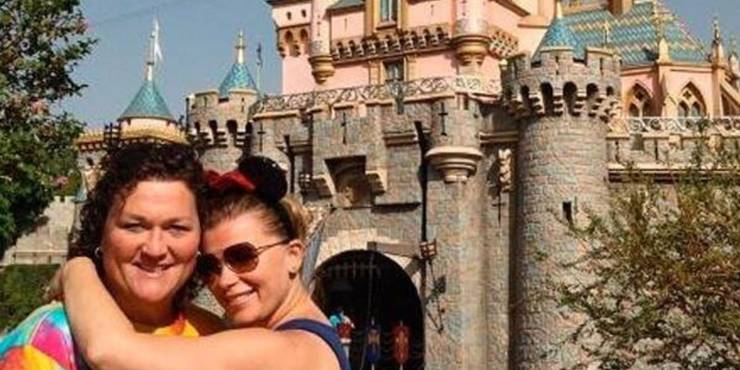 Best known for her Emmy nominated role of Coach Shannon Besiste on the teen drama series Glee, Dot-Marie Jones started her happily ever after at the Disneyland Resort in California.
Jones and her girlfriend of three years Bridgett Casteen were at the parks celebrating Gay Days Anaheim, an unofficial Disneyland event. The event was the perfect backdrop for Jones who decided to propose to Casteen in front of Sleeping Beauty's Castle. With the proposal done in public, these two decided to have a more private wedding ceremony at their home later that year.
2

Engaged: Erin Andrews & Jarret Stoll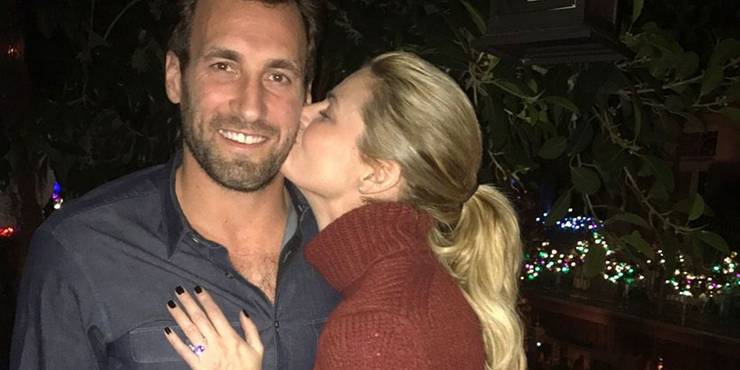 Erin Andrews has made a career for herself in front of the camera serving as a sportscaster and former co-host of ABC's Dancing with the Stars; however, when it came to her engagement she kept things quiet for some time.
In the end, Andrews shared how her fiance, NFL player Jarret Stoll, proposed to her while on Good Morning America. The couple was on a day trip to Disneyland which ended with a romantic dinner at Disneyland's exclusive Club 33. It was during dinner that Stoll popped the question.
1

Engaged: Louise Pentland & Liam O'Neill
Louise Pentland may not be super well-known in the States but she is a popular vlogger in the UK where she used to go by the name SprinkleofGlitter or SprinkleofChatter before going by her real name.
Pentland is a self-proclaimed "Disney geek" so when it came time for her boyfriend Liam O'Neill to propose to her he knew he had to pay tribute to Disney. He ended up asking the question outside Disney's BoardWalk restore while the two shared a romantic stroll.