When it comes to the new reality show 'Bling Empire,' every fan has their favorite cast member. But Christine Chiu tends to be one of the most asked-after stars, partly because of her personality and partly because of her background.
Christine always exudes good vibes, especially on her social media, and she's surprisingly humble there, too. Despite the 'drama' between Chiu and Anna Shay, Christine's following has really grown, and it seems that fans are eager to embrace her, modifications and all.
And, Christine's super-wealthy status and connections mean she's already rubbing elbows with Hollywood's elite. In fact, she almost had a chance at another reality TV show long before 'Bling Empire' came to fruition.
Fans have already suggested that Anna Shay should head over to another reality show because it totally 'fits' her. But Christine is the one who had a real shot at a 'Real Housewives' gig, though it didn't end up working out.
View this post on Instagram
Yep, back in 2014, Christine almost became a 'Real Housewives of Beverly Hills' cast member. Well technically, she did. But how did it all happen, and why isn't she a regular on 'RHOBH' these days?
The story starts with her pal Brandi Glanville, suggests Daily Mail. Christine and Brandi have clearly known each other for a while, and when Glanville returned to the show after a break in 2014, they filmed some scenes together.
The episodes were for the fifth season of 'RHOBH,' noted Daily Mail, and the ladies lunched together in West Hollywood. They both carried Saks Fifth Avenue bags, which made it look like they'd gone shopping together before sitting down to dine.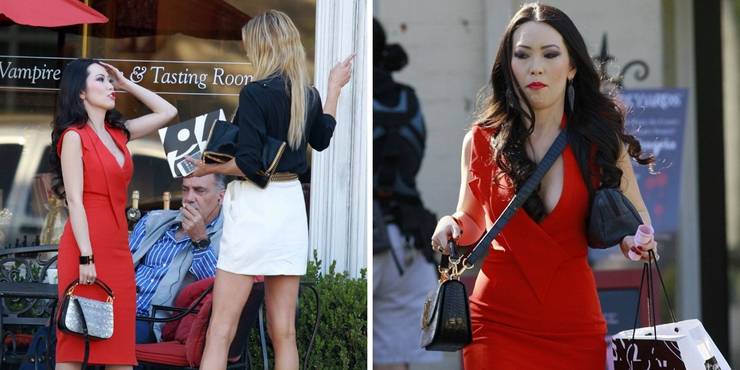 Christine arrived in her black Ferrari and giggled outside Vampire Lounge with Brandi, and paparazzi snapped plenty of pics while the camera crews filmed the ladies. The sad news is that Christine didn't wind up becoming a regular cast member on the show. And her BFF Brandi wasn't asked back for season six, either.
There's no mention of Christine as an official, or even officially considered, cast member for 'RHOBH,' but it's not that surprising. After all, plenty of housewives have their friends featured in episodes, and it doesn't often lead anywhere. For Christine, another opportunity came knocking in 2021, and she answered the call for 'Bling Empire.'
It turned out to be an excellent decision, too, as 'Bling Empire' is now promising a second season for rabid fans to dig into. It can't come soon enough, TBH, although fans have plenty of fodder to enjoy on Instagram in the meantime.
Following Christine and the rest of the cast is like getting a glimpse into the reality TV show, whether real or fake, and fans are all about it.