While The Weeknd's "new face" is troubling fans, a lot of them are talking about his ex's old one.
Bella Hadid, the stunning supermodel, friend of Kendall, and self-proclaimed 'horse addict' posted a childhood photo to her IG stories this week that was criticized so much, she ended up telling fans that their comments were "traumatizing and almost detrimental at times." Here's a background on Bella's baby pic issue.
She Shared Her First Ski Pass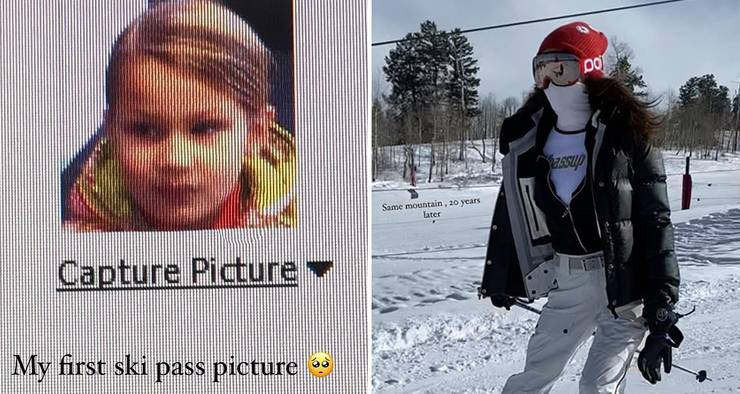 Bella welcomed the new year in Aspen alongside the Jenner sisters, according to their socials. While Kendall snowboarded, Bella chose to revisit the first mountain she ever skied on. She posted a snap of baby Bella's first ski pass to her IG Stories, along with a shot of her skiing on the "same mountain, 20 years later."
Fans Speculate About Baby Bella's Eyes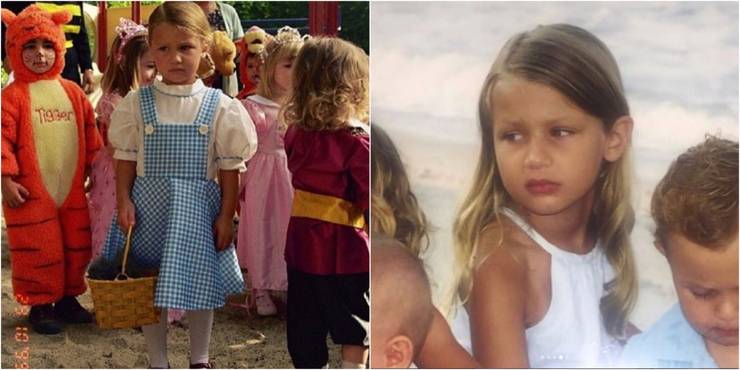 Everybody's looks change as they grow, and nobody can truly know how Bella's beautiful face developed. Whatever the case, fans found that her ski pass photo seemed visibly different from other photos she's posted of herself as a child.
In the comments section of this post from @truthabtcelebs, IG users speculated that Bella may have altered her ski pass photo to match her current upturned eye shape.
View this post on Instagram
"I see 100% photoshop, no doubt," claimed a user named @bronwee. "If you look at her photos where she's a teen you can actually see that her natural eye shape is kinda droopy (by no means ugly)…on the left pic, her eyes are downturned too. We all know she's obsessed with foxy eye shapes now and ofc she wants us to believe that it's her natural eye shape."
"The second I saw this on her story I thought the same thing!" agreed @miamifox. "Definitely retouched."
When some fans suggested it was the lighting or poor photo quality, others defended a belief that wobbly lines on certain parts of the image pointed to Bella having altered it.
"Your eyes don't turn a completely different shape within one or two years," offered IG user @xnoushix. Bella has indeed become the poster girl for the 'fox-eye' trend, rarely seen these days without snatched eye makeup that emphasizes her angular eyes and eyebrows.
Fans Worry That Bella Has 'Confidence Issues'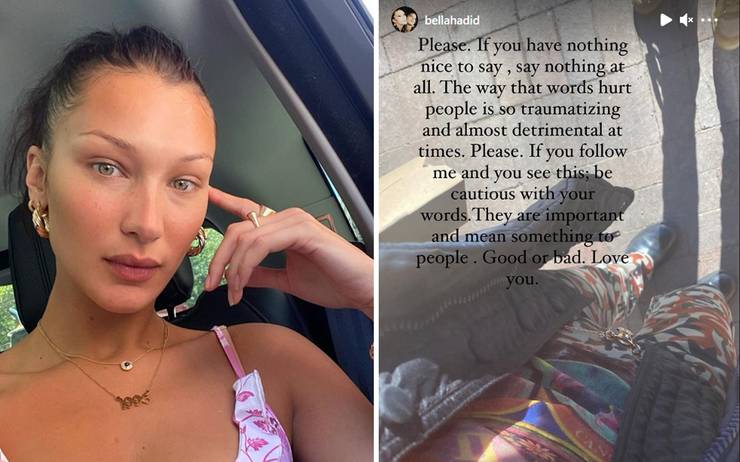 Most fans expressed sympathy for the model, believing her to be influenced by an industry where her face is constantly critiqued.
"She has some DEEP rooted confidence issues if she's not even comfortable looking at baby photos without altering them," wrote @jojoh_89 on the comparison post.
"It's a problem when someone begins facetuning and photoshopping baby pics," agreed @witchybb, and @dustyqualities added "Really sad if this is true."
Ironically, the speculation doesn't help Bella's mindset either way. In a cryptic response Story posted shortly after the criticism of her baby photo came rolling in, Bella told fans: "be cautious with your words. They are important and mean something to people. Good or bad."