If you love catching reality shows on television and more specifically, reality car shows, then you've probably come across Gotham Garage and their show on Netflix, Car Masters: Rust to Riches.
Sure, there are a lot of car tv shows that you can check out today, including the likes of Misfit Garage and Fast N' Loud, on Discovery Channel as well as Graveyard Carz on Motor Trend. Despite having a lot of car shows out there though, the crew over at Gotham Garage stands out from the crowd. As you know, these guys tend to enjoy creating real showstoppers. As a result, they come up with some of the most interesting and unique rides you'll ever come across.
At the helm of Gotham Garage's operation is Mark Towle. And as you might have guessed, there's a lot of interesting stuff about him. Check out what we found.
15

His net worth is estimated to be between $250,000 to $499,000
As you can see, Towle has done pretty well for himself over the years. Moreover, according to estimates from the website My Life, the Gotham Garage boss also has an annual income of $100,000 to $149,000. At the moment, it is unclear how much Towle is earning from his show each year.
14

When he was much younger, he regularly went dumpster diving
According to his website, "Mark used to dumpster dive with his best friend, grabbing broken gadgets and toys, so he could re-design them, rebuild them, and turn them into cooler toys. That's when it all started, that's when Mark realized what his calling was. That's when Mark Towle knew exactly what God created him to do."
13

He was raised by a single mom
As it turns out, Towle's mom had to raise him and his three siblings on her own. His website also emphasized, "The Towles had very little money growing up." And so, it seems Towle became highly motivated to seek a better life. As you know, he did so by putting up his own garage and making some awesome cars.
12

He started out by building props for movie studios
Towle's website also reveals that he spent years "building Props for Movie Studios as well as Movie and Television" cars. Unfortunately, it's hard to tell which films his creations were used on. But since he's into things that are fast, we are guessing he worked on films that required vehicle props. What do you think?
11

He has always had a thing for the unusual
Towle's website clearly states, "Mark builds unusual creations that are both automotive and non-automotive related. From small to large, from easy to difficult, from ordinary to bizarre. Mark has built many incredible, custom one of cars, boats, motorcycles and even a helicopter. "'If You Can Dream It, I Can Build It.'"
10

He's not just into cars. He builds custom motorbikes too
His website explains, "Mark Towle builds Growling Dogs that rumble roar and bite! From the same hard core school as Jesse James and Billy Lane, Mark Towle is a Bikers Biker and this makes him experienced and knowledgeable in what makes you ride the jaw dropper chicks drool over….'Copy that gentlemen!' Custom created to your specs, Towle's bikes and choppers are now available for purchase."
9

He is a California man
If you must know, Towle's Gotham Garage is located in Temecula, California. According to the shop's Facebook page, they have been in operation for 20 years already. So we know that at the very least, Towle has been hanging around California for quite some time now. According to reports, Towle's place of birth is listed as Los Angeles.
8

He scored exclusive rights to create Mach 5 replicas and he makes them with a Corvette C4 chassis
Towle told LSX Magazine, "Every Mach 5 replica I build uses a Corvette C4 chassis. I try to find the nicest cars I can, the kind that have been well taken care of for a long time." He added, "I don't tell the sellers what I plan on doing to their cars after I buy them anymore. I did that once, and the guy wouldn't sell me his Corvette. So now I just don't tell them what I have in mind."
7

For his customers, he's willing to make practically any dream ride come true
"Every car is a little bit different," Towle explained while speaking with LSX Magazine. "Some guys want a radio, some don't. Some want white face gauges, others want black. Some people are more interested in performance, others just want a cool cruiser." Indeed, no request is too big or too weird for this guy.
6

He is a huge Speed Racer fan
During his interview with LSX Magazine, Towle also revealed," I've seen all 53 episodes. Including one that was never aired; it was supposed to be the first episode of the next season, but the show got canceled." Towle is even friends with Peter Fernandez, the very man who adopted Mach GoGoGO for the American audience.
5

He's quite a private person
Even with his fame today, it seems Towle still prefers to keep things private. In fact, it's pretty hard to locate a personal social media account belonging to this man. If he has an account on Facebook, Instagram, or Twitter, he's certainly not disclosing it publicly. Meanwhile, you can catch a glimpse of Towle's daily life on Gotham Garage's social media accounts.
4

He is in a romantic relationship with someone he never introduced to the world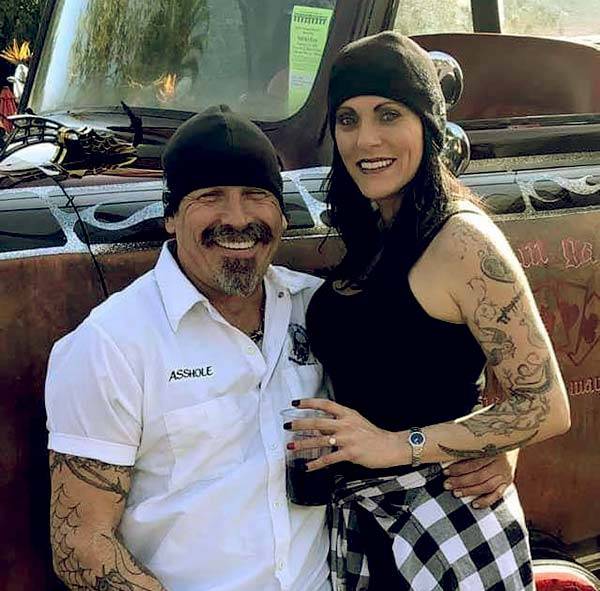 On social media, there are at least two photos of Towle with a woman that have emerged. In one photo, the two pose closely together next to a custom ride. Meanwhile, the other photo shows the two locking lips. However, no one really knows who the mystery woman is. One can only assume that she is Towle's girlfriend, or possibly, wife.
3

He likes having kids around
Back in October 2018, Gotham Garage posted a photo of a cool birthday cake on Instagram with the caption, "One of the youngins from the Gotham Garage family had his 13th birthday and wanted a Gotham Garage cake. Thank you Melanny Torres Castro for the one of a kind artwork!" That's why we're pretty sure that Towle doesn't mind if younger people hang around with him and his crew.
2

He once got into trouble with Warner Bros. and DC Comics and even got sued
Apparently, Towle got into a lot of trouble for creating unauthorized replicas of Batman's Batmobile. According to court documents obtained by The Hollywood Reporter, Towle was sued for alleged copyright infringement, trademark infringement, and unfair competition. Towle's attorney, Larry Zerner, tried to argue that "useful articles" cannot be copyrighted under U.S. copyright law. In the end, however, Warner Bros. won in court against Towle.
1

He's quite friendly with other car show stars
It seems that Towle has a lot of respect for other stars appearing on various other car shows being aired today. In fact, way back in November 2018, the Gotham Garage boss was even pictured hanging out with Overhaulin' star Courtney Hansen. Certainly, it would be interesting to see the two collaborate on a project.