Although Jim Halpert and Karen Filippelli only dated for sixteen episodes, their relationship still left lasting impressions on viewers of The Office. 
A lot of people believe that Pam and Jim are #RelationshipGoals but in reality, they weren't always the best. Pam was extremely insecure and quite frankly, sometimes pretty toxic! Jim's relationship with Karen made a lot of sense, but viewers of the show never spent any time giving the relationship the credit it deserved because deep down, we all knew that Jim and Pam were eventually going to end up together! If we take a step back and really really examine the two relationships, it is obvious to see that Jim most likely would've been way happier if he had chosen to be with Karen instead of Pam.
15

Karen And Jim Were Both Ambitious
When Jan was about to get fired from Dunder Mifflin, her job was suddenly up for grabs. Michael Scott was given a chance to interview for the job before he knew that Jan was getting fired. Karen and Jim also showed up at the corporate office in New York to interview for the job as well because they both shared a mutual level of ambition.
14

Karen And Jim Both Experienced Management Positions At Dunder Mifflin 
Karen moved upward at Dunder Mifflin! Karen started off as a saleswoman at the Stamford branch and then transferred to the Scranton branch with Jim and Andy. Then she became the branch manager at the Utica branch. Jim briefly shared the manager position at the Scranton branch with Michael Scott.
13

Karen Immediately Showed Jim She Was Interested… Pam Waited About 4 Years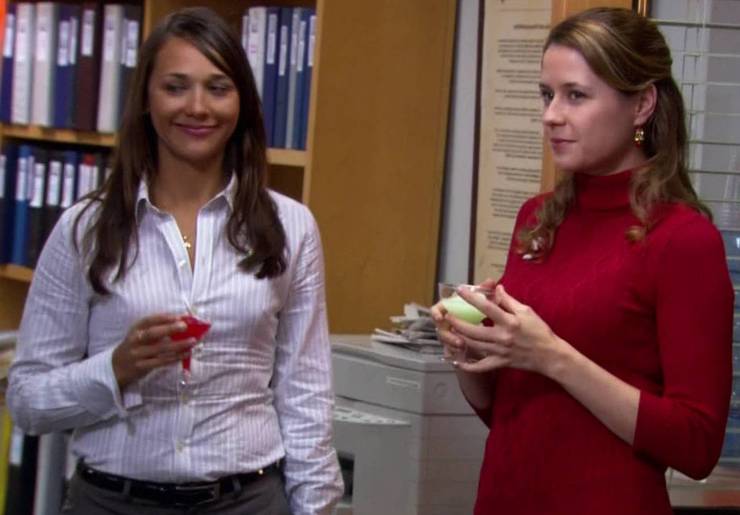 One major difference between the characters of Karen and the character of Pam is that Karen immediately showed Jim that she was interested. Pam, on the other hand, waited about four years to express her romantic interest in Jim. As soon as Karen noticed she had a crush, she was vocal.
12

Pam Put Jim Through Such Emotional Turmoil, He Had To Move To Another State… Leading Him To Karen
Pam put Jim through such emotional turmoil, he had to move to another state. He left Scranton and moved to Stamford in order to try to pursue a fresh start where he didn't have to be in a work environment that was causing him so much daily pain and heartache. His choice to move was valid. And his choice to move led him to Karen.
11

Jim Helped Improve Karen's Work Ethic
When Jim first transferred to Stamford, he was put in charge of making sure Karen completed certain work assignments on time. That being said, she might have been a bit of a slacker before he came along. She ended up majorly improving her work ethic after Jim came along and eventually becoming a manager!
10

Karen Was A Free-Spirit With Jim While Pam Was Uptight
In the few scenes that we saw of Karen and Jim spending time together, Karen seemed to be very free-spirited. She got on stage and sung karaoke at Bob and Phyllis' wedding. She jumped on Jim's back for a piggyback ride when they were in New York City together. Pam was way more uptight with Jim rather than playful.
9

Karen Had Her Own Life And Interests Apart From Jim
Karen had her own life and her own interests, apart from Jim. Pam seemed to be the type of woman that needed all of Jim's time and attention. Any person in a relationship who tries to suck up all of their partner's time and attention is too clingy, needy, and toxic. Pam needed to give Jim a break sometimes– especially with his move to Athlead!
8

Karen Didn't Need To Get Drunk (Like Pam Did) For Her First Kiss With Jim
Some might try to argue that Pam and Jim's first kiss was on casino night, but true fans of The Office know that the first time Pam kissed Jim was when she was drunk at Chili's during a Dundee Awards ceremony. Pam was completely wasted with her inhibitions totally lowered when she planted a kiss on Jim. Mind you, she was also still engaged to Roy at the time.
7

Pam Rejected Jim Twice… Karen Rejected Jim Zero Times
Pam rejected Jim twice while Karen never rejected Jim at all. Pam had two separate opportunities to reciprocate her feelings to Jim and let both of those opportunities pass her by. Karen never felt a need to reject Jim and was totally down for him from the very start.
6

Karen Openly Said She'd Be Willing To Move For Jim… Which Pam Was Not
Karen openly said she be willing to move to a new city for Jim while Pam was not willing to move for Jim. When Karen and Jim were interviewing for the New York job, they had an honest discussion about it. Pam, later on, let Jim know that she wasn't willing to move to Philadelphia for him. She didn't agree to move with him until a year into the future during the very final episode of the show.
5

Karen Spoke To Jim Directly When They Were Having Problems… They Had Many "Long Talks"
When Karen and Jim were having problems, they talked them out. They had many long talks… Jim actually showed up to work sleepy and tired on the morning after he and Karen stayed up all night having long talks. The fact that they were willing to do that for each other shows how mature their relationship was.
4

Pam Confided In Brian The Boom Operator When She Should Have Been Talking To Jim
Pam confided in Brian the boom operator when she should've been talking to Jim about her feelings. Karen and Jim had long talks in their relationship, and Pam turns to Brian the boom operator… This contrast doesn't seem right to us! Pam should have been talking to Jim about everything she was feeling.
3

Pam Was Kind Of Manipulative With Jim… Remember The Chairs Versus Copier Episode?
Pam was kind of manipulative with Jim. Who remembers the chairs versus copier episode? The office was totally divided and half of the employees wanted new chairs while the other half on a new copier. Pam told Jim that he was on "very thin ice" for not being on her side within the debate.
2

Pam's Bonfire Outburst Sabotaged Jim And Karen's Relationship
Pam's outburst at the bonfire during beach day totally sabotaged Jim and Karen's relationship. Karen was simply not the type to do something like that. Karen was the type to pull someone aside and have a private conversation with them. Pam loudly spoke out about her feelings for Jim in front of everyone.
1

Pam Made Jim Lose Out On A Year Of Money And Fun Experiences At Athlead
Pam made Jim lose out on a year of money and fun experiences at Athlead. He really wanted to be part of the company with his friends, meeting athletes, earning a lot of money, and creating a better future for himself and his family. Pam did not allow him to pursue that until he had wasted another year of time at Dunder Mifflin.