It was only a matter of time until someone would recreate the most talked-about Calvin Klein underwear campaign since Mark Wahlberg graced his body for the brand.
Just after Justin Bieber shocked the world when he was pictured as the new face of Calvin Klein back in 2015, rocking a pair of the iconic white underwear, it left audiences wondering: Is he really trying to outdo Marky Mark?
Justin Bieber Vs. Mark Wahlberg
A couple of years ago, Justin Bieber was the new face (and body) of Calvin Klein, and he certainly had some big briefs to fill. JB isn't the first famous face to model Calvin Klein underwear, as many stars have done so over the years. Kellan Lutz and Fifty Shades of Grey stud Jamie Dornan are just a couple that comes to people's mind.
However, Marky Mark, aka Mark Wahlberg, and his crotch-grabbing antics are easily part of the most recognizable underwear campaign ever.
First, let's talk about Justin. He's got the muscles to pull this off, and it seems like tattoos are the norm these days, so people can't fault him for all that ink.
Although Marky Mark shot his campaign in 1992, people are still talking about it today. Plus, Mark did pose with supermodel legend Kate Moss for parts of his campaign, and it just doesn't get anything better than that. Nevertheless, viewers agree that both stars did an excellent job.
The spring 2015 campaign photos show a much mature Bieber's body than fans are used to seeing. He's got a tattoo sleeve on his arm, which looks pretty cool. And then there's those pecs, abs, and a whole lot else going on down under.
Beliebers waited a long time for this campaign to surface, and there's no doubt that they are very pleased with the outcome.
In the campaign, Justin is posed with supermodel Lara Stone in a number of steamy photos along with a commercial that features Bieber playing the drums as Lara slowly approaches him before engaging in a lot of touchy-feely business.
In the photos, Justin and Lara are posed in some rather sexual positions, one with Lara straddling a topless Justin and another with him lying nearly on top of her with his arms covering her lady lumps. The other photos show Justin showing off his tats and proudly raising his wife-beater to check on those abs.
In the other promo, Justin gets his male model on, posing and showing off his Calvins and his numerous tattoos while promoting the hashtag "MyCalvins."
Kate McKinnon Totally Nail It
Pro-impersonator and comedy-guru Kate McKinnon slayed her parody for Justin's ads. She put herself in the Biebs infamous Calvin Klein size XXS underwear and even sported a sleeve of tattoos, just like JB's.
The 3-minute parody, which featured Kate sporting many different props, such as a basketball hoop, a drum set, and a Razor scooter, left viewers in complete hysterics.
Justin Bieber's Reaction to the Parody
Of course, Justin Bieber would have something to say about the parody. He tweeted back to SNL on Twitter, saying, "Well played. LOL." At least fans know that Justin can take a joke.
But who doesn't love Kate McKinnon ? in her few short years as an SNL cast member, she's truly made the show her own, and become a star even off the 8H stage as the leading lady in major motion pictures. Her characters are also well known, like the alien abductee Ms. Rafferty and her impersonation of Justin Bieber.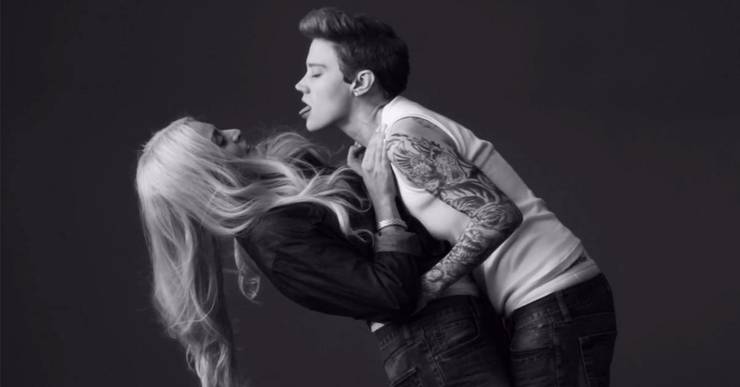 Kate grew up in Long Island and was born into an SNL obsessed family. Her parent were constantly quoting the show, and she came of age in the Will Ferrell & Molly Shannon's Cheri Oteri era. Every Saturday, Kate would get under PJs and watch the show in her basement. She religiously recorded every episode on VHS and the following day would transcribe the sketches in a notebook to memorize. She says her favorite moment was when the cast would all come out to say goodbye because she could picture herself on the stage.
When it comes to SNL roles, Kate is an absolute chameleon but says she would never be interested in playing a romantic straight lead in a movie as it would not be authentic to who she really is. Kate is openly gay and has never shied away from this fact.
Justin Bieber & Benny Blanco's "Lonely" Reaches #1 At Pop Radio
Fans watched JB make his way from small-town boy to achieving big-time fame in what felt like a matter of minutes following the success of his debut EP My World. But what people didn't see was the struggle he endured as a kid growing up in a massive yet seemingly lonely industry. Recently, Justin dropped his new song produced by Benny Blanco, and Finneas called Lonely, along with the 2-and-a-half minute music video featuring actor Jacob Tremblay, who portrays a young JB throughout the video. Fans are proud of JB's strength, resilience, and openness to growth to become a better person for himself and his loved ones.