Most of the time, when Hollywood needs to cast the role of a baby in a movie or TV show, the part requires multiple infants. It was true of the movie 'The Hangover,' which used a few different Baby Carlos actors; a set of twins enjoyed most of the limelight.
And of course, twins like Mary-Kate and Ashley Olsen made millions off of a shared role on 'Full House.' But not every baby goes down in history for making a killing on movie scenes that they only drooled and spit up in.
In fact, some of the tots who portrayed a baby Harry Potter have remained unnamed and unknown, even all these years later.
Though Harry was already a tween by the time the franchise began, the flashback scenes posed a unique challenge for producers. They had to pick a baby who looked enough like Harry to be convincing, but the age had to be pretty close, too. Of course, the fact that the baby really only had to cry or sleep for their scenes made casting a bit easier.
But for the first film, 'Harry Potter and the Sorcerer's Stone,' a set of three babies played Harry's role. The Saunders triplets, says Distractify, were cast in the role of infant Harry. The scenes were a bit uneventful, but it's understandable that producers would need a few options for babies, depending on which one was fussy, hungry, or wet at any given moment.
Beyond their role in the first HP film, though, no one heard any more from the Saunders triplets. Their first names were never noted in the film's credits, says Distractify, and their IMDb page doesn't include any other details.
As for the baby who played Harry in 'Harry Potter and the Deathly Hallows: Part 2,' that child had a name and a credit in the film.
Per IMDb, Toby Papworth was the baby who played a fussy Harry who'd just been through a traumatic event. And while the Saunders triplets' parents didn't seem to want recognition for them, Toby's family even created a Facebook page to promote their son's acting chops.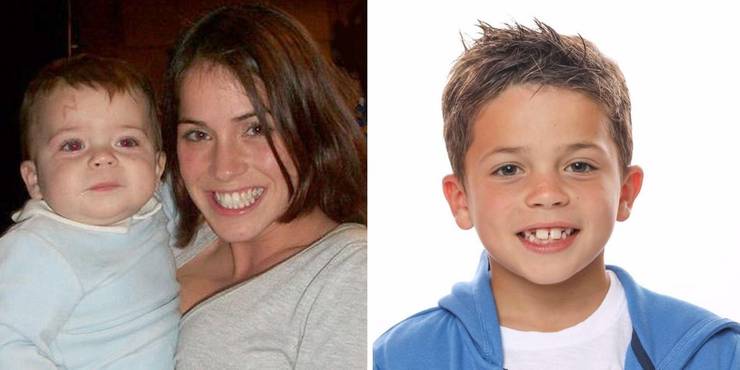 The young actor was born in 2009, and his IMDb page notes that he appeared in four separate scenes of the final film in the HP franchise. But the toddler didn't have any notable roles; at least, none featured on IMDb. Now, Toby is 11 and doesn't seem to be too interested in acting anymore.
But, he can still say that he grew to fame alongside Daniel Radcliffe and the rest of the 'Harry Potter' cast!